Our latest review of the
Thin Stix 6pk of Classic Colors
from
The Pencil Grip, Inc.
, was a big hit in our family, especially with my art loving daughter! The only thing is that I don't like the mess that usually comes when she wants to paint. These magical little wonders are tempera paint sticks that are solid and look like what a marker looks like. However, the bottom twists so the paint comes up, kind of like lipstick. You do need to take off the cap before doing that ... only the cap can't be attached to the bottom of the "pen" because it twists. So we've been putting the caps in the plastic holder that the sticks came in.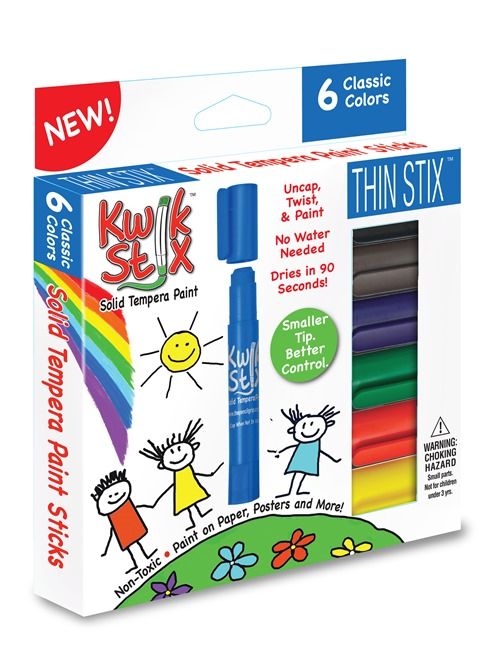 Thin Stix
are non-toxic - which means that even pre-schoolers (the box says age 3 and up) can use these paint sticks. The thin sticks can be used on paper, posters and even on canvas. We even tried to blend the colors, but you to had move quickly since the paint dries in 90 seconds! And that is a great selling point for sure! We even timed it to make sure and usually it was dry in less then 90 seconds. You also do not need to use any water. You can also purchase these in
bigger packs (of 24)
and they have
neon
and
metallic
! My daughter and son have already added these to their birthday/Christmas wish lists. ;)
The
Thin Stix 6pk of Classic Colors
are red, yellow, green, blue, brown, and black and are super simple to use. They feel like a marker, but then they paint like you are using a brush. On paper they come out smooth and the colors are bright. I even had some fun dabbling with them when I could steal them away from my children. I think they are great for making pictures with not firm details or words. Even though they are thinner the tip isn't like a pencil or marker tip. They have a circular tip like glue sticks or dot markers.
Here are some pictures from when my daughter was working on her Girl on a Horse picture as she experimented with the colors included in our
Thin Stix
pack.
And as I was writing up this review my children were working on some new works of art. Aren't these amazing?!? They look just like you'd expect a painting to look - but there was NO MESS and easy clean up! Go get you some of these!!!
Check out the other reviews from the Crew by clicking below. You can find
The Pencil Grip, Inc.
on
Facebook
,
Twitter
, and
Pinterest
if you'd like to connect with them.