As we are entering the high school years, I have been trying to find a
high school writing
program that incorporated great classic literature while delving into the process of writing and the actual study of literature which is not like anything they've encountered before now. We were blessed to be on this last review of the year of
Writing with Sharon Watson
with her second volume of Illuminating Literature: Characters in Crisis. This is a full year literature curriculum for grades 9 - 12. I said this was the second volume - you can read about the first one here and they can be used in any order.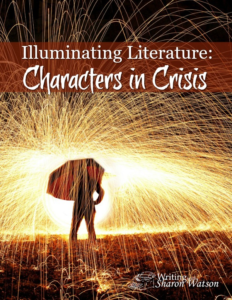 My husband and I were very excited to see the list of books that would be studied throughout the year. There are short stories (many included in the textbook) as well as classics. Some of those include:
"
A Jury of Her Peers
" by Sharon Glaspell
Frankenstein
by Mary Shelley
Silas Marner
by George Eliot
Much Ado About Nothing
by William Shakespeare
"
A White Heron
" by Sarah Orne Jewett
As you can see these are some great stories! And this is only a third of them. You can see a full listing if you'd like to check out the
free samples
of the
Teacher Guide
or the
student guide
,
Grading Guides
, the
Novel Notebook
(a great add on to the literature course that has questions and worksheets for your student to complete), and the
quiz and answer manual
.
I want to go into a little more detail of all the aspects of the course. So first we have the
Teacher Guide
. This is where Sharon has clearly explained all that you will be covering over the 39 sections. Each book covered will correspond with 3 to 4 weeks of work. Some of the lessons are done before the book is read and some during the reading. The Teacher Guide also includes a detailed plan for a Book of the Month Club (including snacks and rewards to hand out to participants), full answer key and guided plan for each book, grading rubrics, and online quizzes.
Writing with Sharon Watson
has made it easy to help your student(s) to enter into the Great Discussion by giving you examples,
Facebook
posts, real life discussion questions and even a choice of activities (create a song, further research, a hands-on activity) that help the student engage in what they read and make it their own - hopefully leading them to become a more discerning reader and able to pick up on the themes that they can then apply to their own lives.
The next resource is the
Student Text
, which is written directly to the student with easy to understand language with a light humorous tone sprinkled throughout. As I mentioned some of the lessons are pre-reading assignments and then they go on to a reading and homework plan that schedules out the next few weeks and what your student(s) is expected to cover. I was so excited to see that there was so much effort put into explaining literary terms and clearly defined. All the short stories are included in the text. The books are keyed to certain pages based on the coordinating versions of the books that the author suggests to use. All of the short stories are written in the student text or have a link to them.
The
Quiz and Answers Manual
is the next important resource. One thing that is unique about this curriculum is that the quizzes and surveys are FREE and online for all the novels, play, and short stories. Each one has a new password which is located in the Teacher Guide. There is a "Yes, I Read It" quiz as well as a "Literary Terms" quiz to help ensure your student is retaining information they are reading about. The quizzes are graded simultaneously and you will see a break down of all the questions, their answers, the correct answer, and the score. These can be printed out and will be emailed to you or the student whomever's email was used to go into the quiz. (If you don't have access to the Internet you can purchase a printed manual for $9.)
The last portion of the resources is this wonderful accompaniment called the
Novel Notebook
. This is a pdf document that can be printed in whole, section by section or only what you'd like. This is a required part of the curriculum and is FREE. This is where students will be able to answer some additional questions while they are reading creating an active readers rather then passive readers. They can also write down their favorite or not so favorite parts of the books and stories they are reading.
One big thing for me is approaching literature study from a Chrisitian and biblical worldview and
Writing with Sharon Watson
has done just that with this course on
Illuminating Literature: Characters in Crisis
. Finding the deeper themes in these writings and being able to recognize and apply them to their own lives will help build strong, verbal young adults able to help the students to apply the lessons they are learning to their life. I am also so happy that the novels are completely read and parsed through. This builds a great foundation for later learning at the college level.
Going through the first story, "A Jury of Her Peers" was at first, like pulling teeth. My eldest daughter is slightly in between 8th and 9th grade, but her ability to read and understand is outstanding and I knew that we needed to start challenging her so that she could really hit her potential. She was hesitant and resistant to even starting to read the story because after reading the first paragraph she thought it was going to be on a subject matter that she was scared or concerned about. However, after both my husband and I read it and then gave her full confidence that it wasn't going the route she thought she finally read it and admitted that she liked the story. It also allowed us to enter into some great discussion on how the world views things, how culture was in the past versus how it is now, etc. She also got to chose an activity that went along with the story. She chose to learn some hand stitching and researched different stitches and then recreated them.
Frankenstein
, which is one of my husband's favorite classic novels. I personally have never read or watched anything about this, so I will be reading it along with her so that I can be able to also engage with her and my husband in the discussions. I am also so encouraged that I found a literature curriculum that is well-rounded and Biblically-based while they learn fun facts, read bio info on the authors, and learn about the background of where the stories come out of to help the student be drawn into these classic literary works. I can't wait to continue on in this curriculum and planning to use the first volume -- Illuminating Literature: When Worlds Collide.
If you are looking for a great, full 1 credit literature curriculum for your high schooler I implore you to explore and investigate this wonderful
homeschool writing program
by
Writing with Sharon Watson
. You can also reach her on
Facebook
and
Pinterest
. You can read how my other Crew members also used this curriculum by clicking the link below.