It's rare that there's a product just for us moms, but this is one of the few. I was glad to be a part of the review team for this new online program -
Homeschool Rescue
- created by a fellow homeschool mom, Heather, from
Only Passionate Curiosity
, which has been full of encouragement, advice, worksheets, and so much more designed to help us "Breathe New Life" into your journey in homeschooling.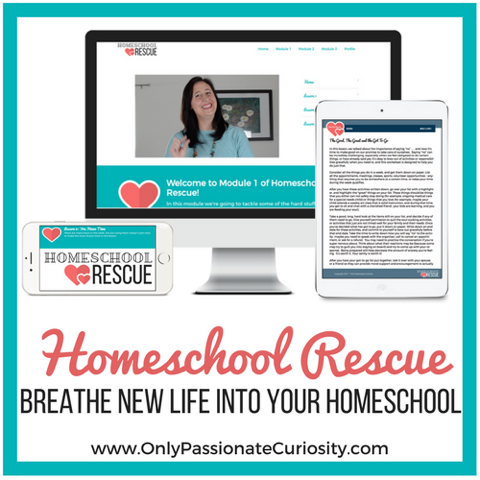 So what exactly is Homeschool Rescue? It is an online e-course that currently has 5 modules that contain 20 lessons plus some Bonus content. Each module is broken down into lessons and an overall introduction. The lessons all include a video of ~20 minutes in length. These videos are slides that include both seeing and hearing Heather speak to us moms, but there's also an option of downloading the audio so you can listen on the go or you can print a transcript of the lesson (great for those who are visual learners). There are also homework assignments, printable note pages, worksheets, and gobs of resources for more help in each and every area that Heather discusses.
One of the great things about this course is you can decide how quickly or slowly you go through. She also encourages you to stop and evaluate whether this is an issue and if it is to take the steps needed to address the issue - whether that be physical or mental disabilities, marital problems, or other HUGE family issues.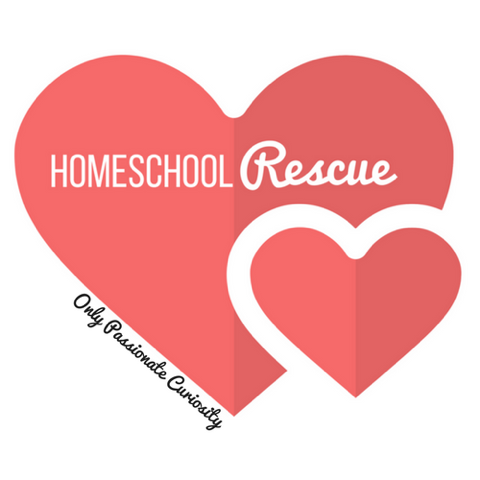 Not only do you have access to the e-course with over 5 hours of content, but you can also join her Facebook support group and work through the course with other like-minded homeschool moms who are feeling exactly how you may be feeling. You can even get paired up and have an accountability person or two as you work through the program - one of my favorite parts of the course was being able to chat with another mom who was "in" the same place that I was, since I am kind of a veteran homeschool parent now. And in the group Heather is actively participating in the group and readily answering questions, chatting, and giving more encouragement.
While going through the course there were times I needed to carefully consider and pray about my responses to the homework worksheets. You also may find that you have to say NO to certain commitments and she helps you work through what you can stop immediately and what you may have to finish, but will stop in the near future. Heather also helps you realize that you may get seriously behind in a necessary subject, but that the point isn't to blame someone for why you got behind or off track. The point is to realize that you are and then work diligently to get back to the heart of WHY you homeschool. That was one of the things I learned by working on our very own Homeschool Mission Statement and the dreams I have for each of my children individually.
It has been a true breath of fresh air into my homeschool life. We've been homeschooling now for about a decade and a piece and lately I had felt I was in a rut ... out of the preschool years and now into the teenage/high school years, but even with those changes we've been just 'getting through' the days. I am known locally as the 'go to gal' when you are new to homeschooling. I even help co-lead a local homeschool group and coordinate field trips, events, and classes with a small volunteer group. But lately, that rut I told you about has even bled into my leading of that group as well.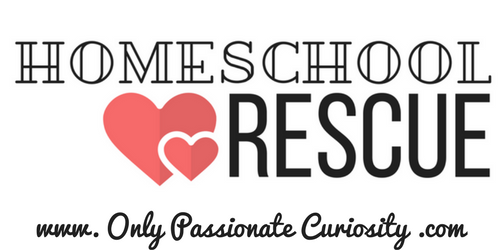 This course has really helped me to evaluate what all I do and what I need to let go ... especially in light of our soon to be uprooting and moving to help plant a church in a totally new state. I am so thankful to Heather and Homeschool Rescue for putting all her energies into this e-course. Homeschooling is HARD work and sometimes we need to really take time to KNOW that and take the time to evaluate what we may be doing that is impeding our journey forward. The struggle is real and Heather recognizes that we can not go it alone.
Heather was clear that even though this course is designed to do in a short amount of time that there is no "behind" as long as you are working toward the goal of really knowing what your homeschool needs without adding stress to your life. And since I have my lifetime to use this course I can spend a little extra on the purging and getting rid of clutter and extra curriculum and move through the course at my pace. And it helps that you have homework to finish before you are ACTUALLY done with a lesson or module.
Right now there are registrations for sign-ups for the next "class" session through the end of the month of May. The 'class' will run from June through July. And your registration will allow you lifetime access to the course including any updates in the future. With summer just around the corner I think this would be the PERFECT time to sign up for this course and get a handle on your homeschool. There is also a 30 day money back guarantee So please, check it out! You can find Only Passionate Curiosity on Facebook, Twitter, Pinterest, Instagram and Google+. You can also check out what others on the Crew thought about the course - just click the link below.