Over the years, since I have one daughter who is a lover of all things art and creative, I've been making sure that art finds it's way into our homeschool weeks. Recently, we have had the privilege of using
ArtAchieve
, which has not only taught us art, but the culture from around the world as well. We've been using the
Entire Level I
since I knew we'd be using it as a family for most of the projects.

I was so happy that my whole family decided to join in and draw together. It has really been a blast. We even checked out some of the free lessons available before we found out we had been picked for this online homeschool art curriculum to review. My youngest daughter was SUPER happy that we were chosen and wanted to start right away!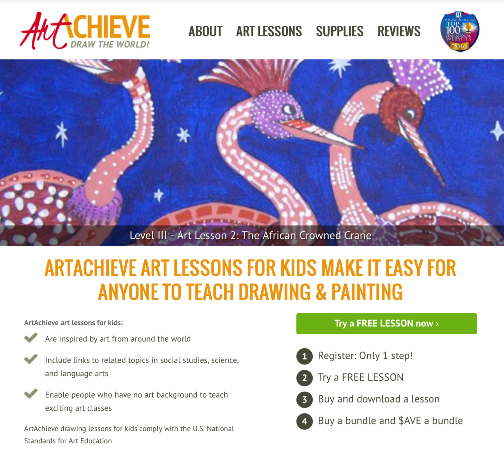 The very first lesson we did was The Czech Cat. The great thing about these lessons are their cross-curriculum suggestions. We have been exploring not only the art, but learning more about the culture the art is inspired by. For this one read about the Czech Republic and that there is a hotel for cats there; learned some cat trivia; listened to some of the musical Cats, and read some story's about cats.
general list of supplies
for all of their art lessons. If you look at this
list of supplies
it will show you what is needed for each of the lessons in each bundle for Levels I - III. This is also one of the ways I was able to pick which level would work best for our family - knowing that I had a majority of these supplies was great!
Now onto the lessons -- you have the choice of a PowerPoint lesson or to watch Vimeo video version. We chose the video so that we could hear John telling us what to do. Before the lesson there is also a Warm-Up for each lesson to get your creative juices flowing. For this lesson, we were shown the inspiration piece which was a charm on a bracelet that had a head that wags back and forth. Before drawing, John helps us all to get into the drawing mode with a warm-up exercise and then also encourages us to have calm music playing in the background. If you watch the video there is some music playing, but during the PowerPoint you'd have to find some yourself, or use some from the link that is provided in some of the lessons.
Each lesson we are reminded several rules of drawing some of which were very important, especially when you are doing the lessons together in a group. Some of the ones that were included:
drawing for yourself, not others or your teacher
being quiet while drawing
you don't have to like everything you draw
if you don't like a line you've drawn, make it one you do like (this was a favorite)
The step by step instructions were VERY helpful, especially for someone like me or my youngest son, who aren't 'artists'. But after following the simple instructions I found that we were both progressing in our ability and becoming better as we did each of the lessons. Whichever version you choose to use to do your drawing you can stop or pause so that you can catch up. We would do that when we worked as a family because some of us worked a bit faster then others.
Since we reviewed this as a family I asked my husband to give me his thoughts. He really enjoyed the program and can see us continuing this new family night tradition. However, he did like to 'do his own thing' so he chose to only use pencil and colored pencils (as you can see from his drawings below). In the beginning I lost our black magic markers that we were supposed to be using, but once I got another set my children went back and outlined their drawings.
All 3 of my children were able to use and understand the lessons and they have regularly asked to do another one. When you do it as a group, the suggested time is a little longer because you are waiting on the all so you can proceed. We have done 6 of the lessons in the Entire Level I series and plan to continue and hopefully purchase another bundle when we are done with the level. Here are a few more of our finished projects:
If you are still not sure which lessons to chose you can try out the entire curriculum, separate bundles (which are 3 lessons per bundle) or an entire level like we have been reviewing (there are 5 levels currently). If you'd like to know more about a specific level by reading the other reviews that Crew members did by clicking the banner below.
You can also check out ArtAchieve on Facebook, Instagram, Twitter, Pinterest, and even on Google+. Have fun creating some art! We'd love to see what you do so please leave a comment!!