When my family and I found out that we were going to be on the review team for
Drive Thru History ®
newest series
Drive Thru History ® - "The Gospels"
we were very excited. We haven't had the opportunity to see any of them, but we had been curious about them. Dave Stotts, tour guide and narrator of the series, is both funny and serious throughout the episodes.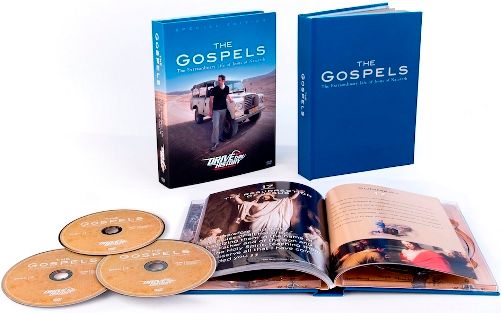 Dave is thoroughly engaging and captivating in the way that he presents the events chronologically listed in the Gospel accounts of Matthew, Mark, Luke, and John. This DVD series is 18 episodes, each 30 minutes in length, covering the birth, life, ministry, death, and resurrection of Jesus. Mr. Stotts carefully integrates the Biblical accounts and then incorporates archaeology, geography, history, and even some art into each episode bringing the stories of the Bible to life as we travel through the locations mentioned in the first four New Testament books.
In the DVD set
Drive Thru History ® - "The Gospels"
, there are 9 full hours of content on 3 disks. We have enjoyed watching the episodes together as a family. Inside the beautifully crafted book-like DVD case is a 118 page study guide on high gloss paper. Each page has wonderful photographs of scenery and places mentioned throughout the presentation of "The Gospels". There are also discussion questions included to enhance the Gospels curriculum.There are also some 'side notes' which are cool and interesting facts from the episode.
This series could be watched strictly as entertainment with true Biblical facts and historically accurate information. But you can take it even further with the study guide by incorporating it into your homeschool curriculum. By simply adding "The Gospels" to your weekly schedule as well as really delving into the study of the Scripture throughout the week using the included reading assignments your Biblical studies will be greatly enhanced. This would cover one semester of Bible curriculum if you chose to do it that way. You could also use this as a Sunday school, small group, or church study.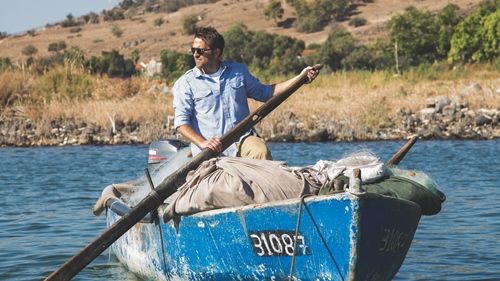 If you do choose to use this as a curriculum I feel it is geared to upper middle school through adults. Although we watched as a family my younger two kiddos were not as interested in answering the discussion questions as my almost high schooler. (Oh My Gosh, I can't believe I have an almost high schooler!!) My husband enjoyed following Dave as he took us to the historic locations in each episode and spending time explaining a bit about their history, both cultural and Biblical. We would both highly recommend this series!