This post may contain affiliate links.
I know that there are many out there that dread the high school years mainly due to the thought of having to teach high school math whether it be Algebra, Geometry, or even Calculus. Well that was one of the reasons I asked to be part of the review team and take a look at what
UnLock Math
had to offer through their
UnLock Algebra1 c
urriculum.
Arianna is just finishing 8th grade, but she and her siblings are pretty gifted when it comes to math. They kind of have to be with the 'math heritage' they come from with their dad, aunt, and great-grandmother (all on my husband's side) being math teachers and professors. Earlier this year Gran (my husband's grandmother) thought Arianna was ready for Algebra and took it upon herself to start teaching it to her several times a week. It was shortly after this began that Gran started really feeling the effects of chemo and so their studies had slowed quite a bit. But, when I heard that we were picked for the review of
UnLock Algebra1
I knew it could only help bolster and continue her studies of Algebra 1.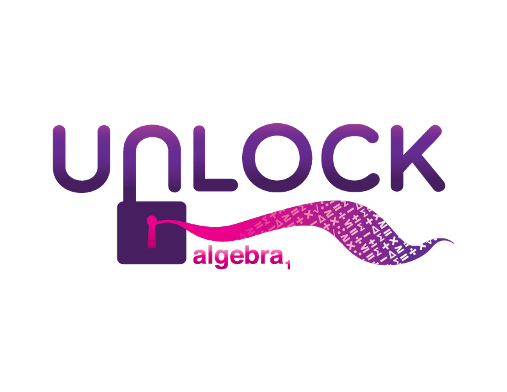 Unlike many families, math isn't as much of a dread or fright for us. The plan has ALWAYS been that when it came to upper level mathematics that dad would be the main instructor, especially since he does have a Master's in Mathematics. However, I help co-lead a large local homeschool group and I meet/chat/message with many homeschool parents as a homeschool consultant and I love having programs that are strong, solid choices that I can offer to them. I believe whole-heartedly that
UnLock Math
is just such a program/curriculum. They offer a variety of high school course including
UnLock Algebra1
,
UnLock Algebra2
, and their newest program
UnLock Geometry
. They also have plans of
UnLock Pre-Calculus
coming in 2018 followed by
UnLock Calculus
in 2019.
So how does the program work? When you first enter your course there are a series of locks and rockets. You click on the first lock and then hit the rocket to "launch" your session. Each lesson has 4 parts. One thing that could be a pro or a con is that all of the lessons are essentially "unlocked" ... meaning that your child can go into any of them at any time. This was nice for my husband and I so we could see the different concepts that would be taught in the lessons, but you might not like this option since the child could click on the wrong section and still proceed with the lessons.
Opening Screen
Once you are in your launched lesson it starts with a warm up section of 5 questions. These are there to help you get your brain awake and going with math. Then there's a video presentation of the lesson for the day. This is where the teacher explains definitions and goes over several examples of the problems you will face. These videos are embedded into the lesson so you don't have to worry about clicking on something incorrectly. Next are the 10 practice problems, which are based on the lesson. The Stay sharp section is next and is comprised of 10 review questions of previous concepts.
Lastly there is a singular challenge question. This is done to really make you think, ponder, and stretch your brain. My husband liked this part the best. He believes it is totally OK if you think and ponder for up to 15 minutes on these challenge questions and still get the answer wrong. It helps the student learn to "play" with math and really soak in the concepts and how they work. It is also totally fine to not get the correct answer because it doesn't affect the student's score. The very last thing that's available is called Reference Notes. You can use these in a variety of ways -- to read when the lesson is done, print out the ones your student feels are most necessary, or you can download them all 472 pages of them!
Sample Question
The
UnLock Math
curriculum is totally online and can be used as a full curriculum with all of the teaching, testing and grading done for you. It could also be used as a supplemental program to back up what you are already learning. There are also progress reports and gradebook that can be viewed from the student page. There is also a pacing guide so you know how long each section is supposed to take, which is really helpful if you have a student who is working primarily independently. I haven't needed to use their customer service, but I hear they are speedy and knowledgeable. You can access it straight from their website by clicking on the "contact me" option.
Gradebook
UnLock Algebra1
starts with 19 lessons of pre-algebra (no quizzes or tests) and then 12 units in the Algebra 1 lessons covering topics from equations to radical functions to even trigonometry and probability. My husband looked the units over as well and said it was a really strong program that would fully prepare your student for Geometry (which remember,
UnLock Geometry
is NOW available!)They also have quizzes, tests, a mid-term and final exam. One word of caution though is to be sure and click the BLUE word (so in the Practice Problems it is the word NEXT) and not Submit the assignment until all the questions have been answered. Also the quizzes are to the right while the daily lessons are on the left. Each quiz covers several daily lessons, but they could be easy to miss.
The students are afforded unlimited practice and review where they can choose to redo the questions if they feel they need more practice. The student is also given one question at a time so that they won't get distracted or overwhelmed by a page of problems. In math sometimes we have to use special symbols like for multiplication (*) or for exponents. They do give instructions of these special instructions on the first time the student will need to use them for the assignments.
How did Arianna like the program? Well, she has a love/hate relationship with math all the time. Some days she just plain forgets the concepts she just learned. And she likes to get things right the first time no matter what. That can be quite discouraging when you are learning new concepts. So we decided to start off at the beginning with the pre-algebra section. She has just finished that section and began the first unit today. We plan on continuing through out the summer so that we don't lose all of our math skills. Plus, we are year-round homeschoolers so it's normal for us to school all through the summer.
Arianna really loved the video instruction of the lessons. The teacher shows you how the problems are done in bite-sized chunks. My daughter says she suggests the student takes notes ... it's more helpful for her when she does that once she gets into the lessons. She also says that the challenge questions do take a long time. You should do them ... it'll help you see just how far you can go. ;)
If you'd like to check out a
sample lesson
and see for yourself I'd suggest that for sure. The price for a single subscription is $49/mo. or $299/yr. And there is a sibling discount for up to 3 kids for 50% off. And if you click this
LINK
then you can get $50 off of an annual purchase! You can also find them on
Facebook
,
Twitter
, and
Pinterest
. And as I mentioned earlier there are other programs that
UnLock Math
has to offer --
UnLock Algebra1
,
UnLock Algebra2
, and their newest program of
UnLock Geometry
-- so please be sure to check out what others on the Crew have discovered for those programs as well by clicking the link below!