Affiliate links are included in this post which will earn us Smart Points at no cost to you.
I first learned that we were going to be getting a one year subscription to
Homeschool Planet
, from
Homeschool Buyers Co-Op
back in late May and I have become so thankful for this wonderful gift. Usually I keep our plans in several different locations like the wall calendar for things we do with the kids, in our Gmail calendars - so hubby and I know what each of us are doing and what's going on at church. But then there's also the special events either through Facebook or last minute invites, not to mention chores and school that are generally just all roaming around in my brain ... which as we all know can get crowded and then we tend to forget things. So wouldn't it be great to have a place to have all of these scheduled events in and that would be emailed to you daily and even to each individual? Oh and you could also have to do lists and a grocery list and a reading list. Well that is exactly what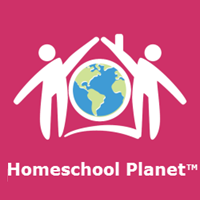 So I am going to try and show you the major parts that I have found to be most helpful to our house. One of the great things about this online planner is that it is easy to customize to your needs and you can start in minutes by clicking on the calendar and then adding your school assignments, appointments, and anything else. It allows you to track your students progress through their classes, their attendance, grades, etc. You can be super detailed or just put in the highlights - whatever fits your needs and personality. There are separate logins for each of your kiddos and you can even have their assignments emailed to them daily or weekly or you can even choose to print those out if you have someone who likes to have paper in hand. Once they are done they can login and check it off as done either after each subject/chore/event or at the end of the day. There are widgets you can add to your page to have To Do Lists (one of my FAVORITE things), Daily Quote, Weather, Daily Bible Verse, Meal Plans, Grocery Lists, and you can send text messages straight from within the planner!
The main view is the calendar view and you can choose to see everyone's or just one individual. The items are color coded and when they have past you can see that they become dull and muted instead of bright with check boxes available. Once you check in the box it becomes green when done, yellow if in progress, and red if not complete.
If you have assignments that haven't been marked off you will see this screen asking if you'd like to move them and how you would like that done. This is called the Rescheduling Helper and can also be accessed by clicking Helpers on the top right.
If you need to add in special events, birthdays, appointments, chores, etc.
You can also have a daily digest emailed to you and your students. My email comes to me and tells me what everyone is doing. My daughters can get an email that shows them just their list for the day. I haven't fully integrated all their chores and appointments into the system yet, but I do plan to. Arianna has enjoyed getting her email and knowing exactly what needs to be accomplished for school that day. Since she is older and has different subjects that she does totally on her own, we spent a few hours one afternoon figuring out the exact pages and lesson numbers and scheduled for most of June. We are getting ready this weekend to do it again for July and thru mid-August when the "new" school year starts (and our possible move out of state).
The planner view is a little different and has everything in a list. Both this view and calendar view allow you to see a day, a week, or a month at a time and you can choose everyone or just an individual. You can then be able to print these lists out (I'd chose weekly if I was going to print) so that each child can have their own printed list. This allows you to have the best of both worlds - paper and technology.
Another GREAT feature is that you can purchase pre-made lesson plans that go along with what you are teaching and using. There are many to choose from including BJU Press, Rosetta Stone, Family Time Fitness, Mystery of History, RightStart Math, IEW Fix It! Grammar, All About Spelling, Math Mammoth, Fun With Math Life of Fred, and so many more. I expect they will be continuing to add more and more.
We picked the Virtual Field Trips and Mystery of History Vol. 1 (they have all 4 volumes.) Last year we had done Vol 1 so I picked that one so I could see what it looked like and man how I wish I had that last year! With a few clicks of a button it would be all integrated in my lesson plan. I can't wait until I can start planning for next fall and add in any lesson plans that they already have. But as you can see in the above picture under My Lesson Plan, I was able to create a lesson plan for the literature my eldest daughter was working on. Once you click on apply lesson it puts it into the days with the specified lessons for each day. It also gives any links to other materials you need. And you can upload your own extra resources and links so they are all there in one place.
There is also a resource view so you can add in the books you are using. And there's a way to enter it by ISBN.
You can personalize the colors of the subjects, see a view of the entire calendar year and how many days of school have passed, and there's a feature to Share in and Share out your calendar to other calendars like Google Calendar or Yahoo.
You can also customize your "theme" and add 'widgets' (like extras on the side and bottom of you main dashboard look). At the beginning I had the original theme (which was pink) and then changed it to the one that's blue with spirals. Some of the widgets I've already mentioned, like To Do list, Daily Quote, Weather, Book Lists and some more.

Now to be honest I don't usually do a great job of scheduling and assigning school. We usually just do the next lesson and if you need help let me know. At the end of the week or sometime over the weekend I usually go over all they've done and make corrections, especially for the girls who do a lot more on their own. But I have been seeing the signs that this won't be a great system to have as we move into one in high school, one in middle school, and then one also in elementary school. Even though we still do some subjects together (history, science, art, music, and Bible lessons) there will be some things that only my high schooler will do either because it's her interest or because she's in HIGH SCHOOL (oh my that is so weird to think about)!!
But I think Homeschool Planet will truly be a life saver for us. And my husband has even said that he likes the tedious and most time consuming part of entering all the page numbers and lessons (for those that don't yet have lesson plans created for them). With us working on these tasks together I think we can finish our summer plans and get a good head start into fall. I still think I'll only do a month or 2 at a time at least through early fall. With our prospective move to help plant a church, I don't want to constantly have to move the assignments ahead (even though that option is always there) or even delete them all together. I plan on doing more while we are still here and then slow down in August and September to just the basics (math and reading).
Be sure to check out that FREE 30 day trial and get your FREE lesson plan (but only through the end of the month). But if you'd like to purchase Homeschool Planet it can be done monthly ($6.95/yr) or annually ($65/yr). I'd love to hear from you if you do try it out! Leave a comment.
And be sure to check out the other reviews by clicking the banner below!