I have found after homeschooling all 3 of mine from the start, that they truly are all unique and original and what works perfectly for one does not necessarily mean it will work for ALL of your children. That is the case with my son. He really likes to have small chunks in a workbook style. My other two liked whatever we used and also liked working all together. But my son, he likes to move and do and GO! So when I had the opportunity to review the
Grade 2 Lightning Lit Set
from
Hewitt Homeschooling
I was eager to see exactly what this curriculum had to offer. I had not heard of Hewitt Homeschooling before now, but I am always looking for new curricula to share with my many homeschooling friends.
One thing that I really liked about this curriculum is that it includes literature, grammar, and composition (writing). The choice of literature books have been really great ... like
The Bee Tree
by Patricia Polacco and
La Mariposa
by Francisco Jimenez and for the first half of the book the child can read a half a chapter a week of
Winnie-The-Pooh
. The book choices include classics and some new ones and in the beginning of the curriculum they are mostly picture books, but by the end they are using chapter books like
The Boxcar Children
and
Mr. Popper's Penguins
. Also sprinkled throughout the curriculum are weeks where they focus on poetry. I love that poetry has been included -- it is one of the best ways to really study writing and grammar concepts.
Another interesting thing about this program is that the authors expect that the students using it will not all be at the same level or pace. Some will have already been reading and some may not. They also encourage reading aloud no matter the ability of your child. When you use books that are less challenging to read it makes it easier for them to pull out the answers to the comprehension questions and do the lessons because they are able to concentrate on the actual material and not struggle first with the reading.
I told you - he's always moving ... see the blurry face.
The beginning of the book in the Teacher Guide explains how to use the program overall, discusses grammar and mechanics as well as composition that will be covered. The author also explains how to personalize the program to fit your child best. Then it goes on to discuss what you will do daily through the week. You can accomplish the lessons in the first 4 days of the week and then day 5 can be the 'catch up' day or the day you extend the lesson and do further reading or an extra project or whatever you'd like. We usually didn't work on the 5th day, but it was good to know we had the ability to spread it out. On thing that made this teacher guide different was that you could write your child's answers down in it instead of the student having to write out all their answers. This is great as they sometimes don't have the ability to write for long lengths of time.
This curriculum also introduces diagramming of sentences. It's the earliest I've really seen this skill introduced and my son has really enjoyed it. BUT in the instructions it says that if your child struggles or is frustrated just drop them and you can try again towards the end of the year. It was nice that the student workbook came in full color. That really helped draw my son's attention to the pages he was working on. I also appreciate the larger font that the entire book is written in and that the spaces where my son has to write answers in is long enough for his still quite large handwriting. That helps to lessen his frustration level when writing his answers.
Full color pages in Student Workbook
Now, I will say that the books do not come with the program. I had a few already on hand, but some we couldn't get from our library ... mainly because I didn't order them in time. We generally have a great inter-library loan program, but with packing and purging I didn't want to accidentally pack a library book or lose one. However I was able to find some of the books on You Tube being read either by another child or a teacher or another parent. My son is used to the multiple readings of one book per week from our own homeschool experience, but he does like having others read it to him. He still is in the early reading stage so having the books available to be read to him really helped while we are in this transition in our home.
Right now
Hewitt Homeschooling
offers elementary (
1st
-
3rd
grade); junior high (
7th
&
8th
); and high school with courses from
American Literature
to
British Literature
and so much more. They are in the works of a curriculum set for
4th grade set
to release in August 2017 for at least the first semester of the year. We found the
Grade 2 set
to be a full well-rounded curriculum that covered many great works and we plan to continue it through the summer. I'd highly recommend this program, but don't just take my word ... check out what the CREW has to say too!!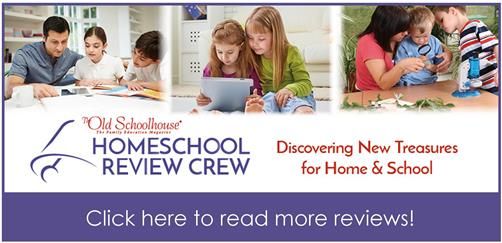 You can also find them on Facebook, Twitter, Pinterest, and Google+.