This unit study we received from
Home School Adventure Co.
is much different then your average unit studies. Stacy Farrell has written
Walking with the Waodani
, a study of the Waodani people (formerly known as the Aucas) and the country of Ecuador. The Aucas were the tribe that Nate Saint, Jim Elliot, Ed McCulley, Pete Fleming, and Roger Youderian went to minister at and were killed while bringing them the Gospel. I've always been very fond of that missionary story, so to share another look into life with the Waodani with my children I just couldn't resist!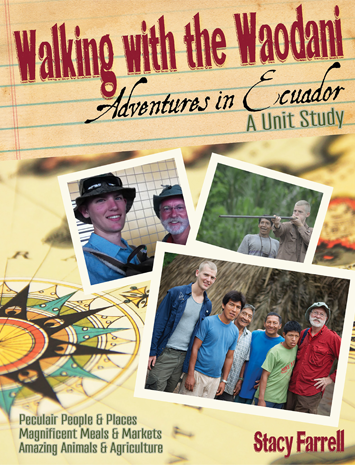 The version we received was a preview unit of just 2 lessons. We received the 3rd lesson just the other day and excited to get started on that this week. The completed version will be a 7 week study will be available soon as either a PDF (for a tentative price of $14.95) or as a physical book (with an estimated price of $18.95). The final unit will include 4 lessons.
Each lesson will have five sections:
Lesson Introduction
People and Places
Meals and Markets
Animals and Architecture
Worlds and Worldview
There is also a travel journal for each lesson that is also goes with each lesson that also has five sections.
Travel Journal Notebook Pages
Mark Your Map (or Ministry)
Rate the Recipe
Draw an Animal
Creativity Unleashed
My eldest daughter is really enjoying the travel journal part of the study. She is having fun especially with the creative writing portions (she may someday be an author!) We worked on the lesson part for one week and then the following week she went through the travel journal while going back through the lesson. She also liked drawing the animals. I'm sure that this could all be done in one week's time with the lesson for the first days of the week and the travel journal on the later.
One of the best parts about unit studies is the variety of subjects they cover - history, geography, English (handwriting and creative writing), science, culture, art, and so much more. We use unit studies when we need a break for our day to day and get back to doing things together as a family. We also tend to use them on weeks where we have a LOT going on, travelling, or even as a supplement to cement something we had been studying in our regular studies.
However, you use this unit study is really up to you and your family - but it is so much more then just another unit study. This showcases missionary life, which has a special part in our hearts. A very close family to us (who has a son the same age as my son and they are BEST friends) just returned to the states after being on a small remote island off the coast of Madagascar. They have had similar experiences with different foods, unknown language, and cultural rituals so this study was a great tie in to those types of conversations.
At the end of the lessons there are recommendations for links, books, and videos that would be a great way to enhance and lengthen your study. We plan to watch End of the Spear, Beyond the Gates of Splendor, and I'm sure my daughter will want to read Through the Gates of Splendor as soon as I tell her about it! She's a voracious reader.
I believe that this study,
Walking with the Waodani
, gave a thorough look into the life of the Waodani people as well as the country of Ecaudor. I also liked the ability to just print out the journal pages and then I can use this again for my younger children in a few years. Be sure to check out some more great studies from Stacy at
Home School Adventures Co.
If you want to connect with them there are several ways: