It's always nice to find a product that helps train and teach our children especially when it helps to build character through discipline and Biblical instruction. That's exactly what you will find in the
Manhood Journey Father's Starter Kit
. This 6 week father-son (or male mentor or small group of fathers and sons) Bible study on Biblical manhood was created by
Manhood Journey & City on a Hill Studio
.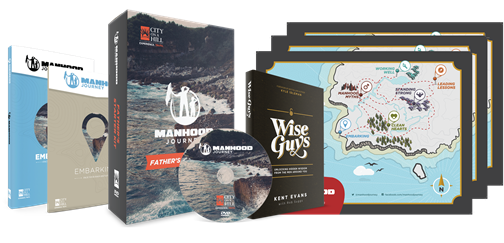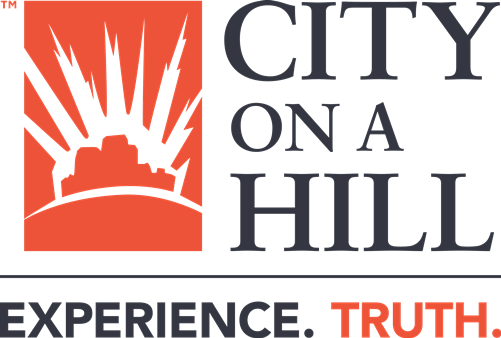 This is intended for fathers and sons (recommended for ages 8 to 17) to 'embark' on the journey together, but it can be done by another male role model in your sons life. It includes the following:
1 on 1 guide
Group Guide
10 Maprochures
DVD
Wise Guys: Unlocking Hidden Wisdom from the Men Around You by Kent Evans
This
Manhood Journey Father's Starter Kit
program is designed to be used over 6 weeks and is the first of 6 modules. The 1 on 1 guide has six sections and is designed for dads to use as their facilitating guide to discussion and lessons. The big thing being taught is these 5 rocks or principles - Trusting God, Knowing His Word, Prays Fervently, Builds Relationships, and Serves Others - that help lead the young man down the path of true discipleship.
The DVD tells you what to expect for not only this journey of "Embarking" but also an introduction to the 5 other modules. Then the Maprochure (a map and a brochure put into one) is how you can 'chart your course' along this journey. These extras really help give you a visual of how the program is to work and flow. If you are doing this with more then one son or even as a small group of fathers and sons then you will want to look at the group guide to help lead a weekly discussion and then the 1 on 1 guide for daily use.
The free book which was also included in the kit - Wise Guys: Unlocking Hidden Wisdom from the Men Around You - has 17 short chapters that speaks of lessons the author has learned from other men that have been in his life. Many of the chapters end with some questions to help you reflect on the chapter. At the end of the book it includes three steps you can do right now and a list of 11 tips.
All along the journey there is Scripture to support the points being laid out before your son as well as character building questions and activities for them to do together. This program will help build a strong bond between father and son (or any male mentor for the young man in your life) as well as build up the discipleship of young men to help lead this generation.

My husband and son were the ones who 'tested' out this program and are still working their way through the program. My son really has enjoyed the one on one time with his dad and you can see his eyes light up when he knows it's their 'study time' together. My husband thinks that this program is really better geared for a tad older in the age range, say the pre-teen years (11 and up). Our son JUST turned 8 so he is at the beginning of the recommended age bracket. So my husband has taken this 6 week program and extended it by doing each module over 2 weeks. This allows more time to be focused on each of the 5 rocks they are memorizing and trying to implement into their lives. My son has liked finding rocks and painting them with the truths that are being taught (one of the activities in the guide).
All in all this program is well-rounded and truly inspirational in it's approach to help men lead young men reach their God-given calling and potential. You can purchase your own kit for $29.99 by going to
Manhood Journey & City on a Hill Studio
and purchasing the
Manhood Journey Father's Starter Kit
. If you'd like to find out more about Manhood Journey you can check them out on
Facebook
or
Twitter
and their handle is @manhoodjourney. You can also check out City on a Hill Studio on
Facebook
and
Twitter
. And be sure to check out what others on the Crew thought by clicking the link below.