Do you have children who have trouble with their multiplication tables? Yeah, I think we all do. Well my younger children LOVE
Times Alive
online lessons with animated songs and stories that help them learn
times tables the fun way
. I also had my eldest working on it, but she mostly knows her multiplication tables already. So I had her looking at it from the point of view of whether it would have helped her a while ago when she was struggling to remember them.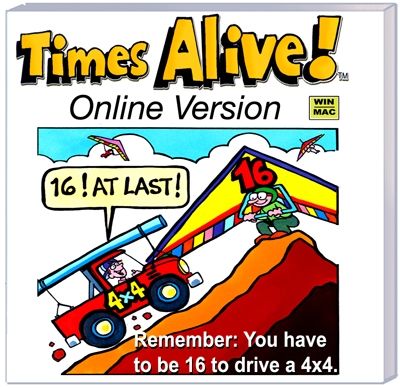 My two younger children have loved every minute of this review so far and continually ask to do their multiplication fun stuff daily! This program uses a picture and story method to help with the learning and committing to memory of their multiplication facts. Each story links a math fact to a graphic picture helping you "see" the math fact in your mind. The program is focused on the facts up to 9 x 9.
I have noticed that my son (who is only in 2nd grade) is remembering the facts he's been learning more then his older sisters had in the past. When we began with this program he really only knew a few of the tables ... like 2 x 2 = 4, but that's because he knows that 2 doubled is 4. He knew a few others, but not many. Now after these lessons he knows 0's, 1's, some of his 2's and 3's. That's quite impressive for just 15 or so minutes a day for about 2 days a week.
My daughter who is 11 has been struggling with multiplication is also using this program and she absolutely loves it. She's been trying to do multiple lessons per day so I've been having to stop her a little. This program can certainly be completed in a month if you do 4 to 5 lessons per week at 15 to 20 minutes a day. The cool thing about that is that you can purchase this in
monthly increments
so you only have to pay for what you need, which is a fantastic draw for this type of program. The monthly subscription is just $9.95 per month (with an additional $6.95 set up fee.)
Another great thing about
Times Alive
is that it is completely online and you do not have to download anything to your computer. It's easy to log on from any computer pretty much from any place and the subscription can be used with by all your children. However, if you clear cookies all progress will be lost. And although it can be used on an iPad, but you'll need the flash app. Please check that out for yourself
here
if that interests you since I did not try it myself on the iPad.
Oh and the progress reports ... that is how I can keep up with all of their progress and know what they've scored on the tests by telling you their percentage, the number they answered correctly, as well as how long it took them to complete the test.
Another positive about this program is that you can print out the tests instead of having them do them online. This helps if you have a student who isn't very familiar with the keyboard on the computer you are using or if they have test anxiety. I did not have to use this feature, but I think it's a good idea to have it available.
I did notice that on the progress reports that if they got less then 100% I couldn't tell why or which problems were the issue. That would be something I think could be an 'upgrade' with the program so as the teacher you could click on the test itself and see how your student answered the questions. Then you'd know which lessons needed more review. Check out this
sample
of Times Alive!
All in all I think the
Times Alive
program is really helping my kiddos learn
times tables the fun way
! You can check out other reviews from families who have also used this program by clicking the graphic below!