Ummm ... yes, probably. ;)
But the latest review product we had the opportunity to work with was from
Let the Little Children Come
. This cute little pumpkin is a great
child evangelism tool
called Is There Anything Better Than Candy? Box Tract. And it's the perfect time of year to see all things pumpkin ... the snap of the crisp, fall air; the smell of apple, cinnamon, and nutmeg rising from the kitchen; and thought of pumpkin drinks and pies filling my dreams.
HTML:

One thing that our family doesn't participate in is Halloween. But if we did these sweet little pumpkin treat box tracts would be on the top of our list to purchase as hand outs. Who doesn't want to
share the Gospel with children
? And what better way to do that then with these
Halloween tracts
? None that I can think of.
The pumpkins come flat in a package of 20 for just $15.95 (and discounts for bulk orders of 11 sets or more.) They are made of 6 petals each having a brief part of the Gospel story. It tells us that Jesus came to earth to take on our sins and die in our stead so that we could have eternal life with Him in Heaven.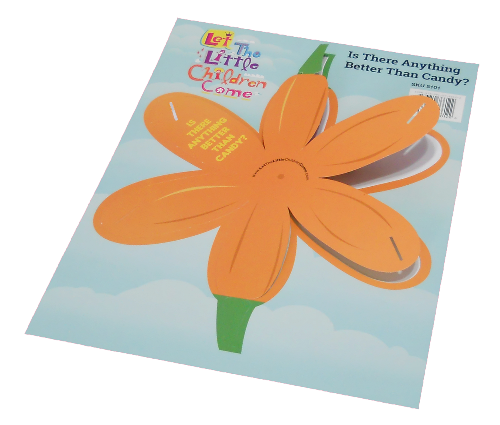 Once you punch out the petals you are ready to assemble. The assembly instructions are printed on the paper you punch it out from so anyone can put these together. They are big enough to fill with little candies (like kisses or those little candy bars or truffles), but my kids came up with some of their own ideas as well. One of my children thought they could make little bracelets and then add a cross on to it and stick it inside the pumpkin. My other child said we could add a special Bible verse in with the cross bracelet. My son thought we could even fit in a gift card or some other snacks (like pretzels or Cheez-its).
Now since we don't "do" Halloween I asked my children to come up with other ways they thought that we could use these pumpkin tracts. They came up with the following ideas:
as a place setting decoration for a fall gathering or Thanksgiving
as neighbor gifts in the fall/autumn season
inside our homeless bags that we prep and hand out whenever we can
at a homeless shelter (like the homeless potluck we try to attend regularly) or at a soup kitchen
as thank you gifts to the mailman/lady, trash pick up people, or other regular workers
You could also use them as a gift for the children in your small group or missional community group; Sunday School class; fall festivals; Trunk or Treats; Teal Pumpkin gatherings; hand outs to children at yard sales (which we may have another of those to help raise money for our move); nursing homes, and so much more.
As we were putting our 3 together my middle daughter read all the petals of the Gospel story. As soon as she had finished she mentioned that she'd like to give a few to the kids in our neighborhood and a little girl they met at the swimming pool. That little girl came to her very first VBS this summer with my daughter. She wants to make sure that the little girl knows that Jesus will be with her when she prays the prayer on petal #6. This is the TRUE reason for these little pumpkin
Halloween tracts
. To help spread the Gospel in a soft yet meaningful way.
While we were putting them together one of my son's petals ripped off. I couldn't really tell if it was because he was too rough when popping it out of the paper or because the stem part had a bit of a perforation. Either way, they are pretty easy to put together and clearly look like a little pumpkin.
I do have a little issue with the placement of the petals. Once you put the pumpkin together, the last petal is #6, which would then be the "first" to be opened. I think the first petal to be opened should be #1. My eldest daughter thinks that the stems are 'meant to be torn open' so that when it undoes all the petals and their numbers will be clearly seen. The first petal is the one that answers the question on the outside of the pumpkin ... Is there anything better than candy? And of course the answer is YES!
All in all these are cute, cost effective, treat boxes that can help you share the Gospel with children of all ages. Be sure to check out
Let the Little Children Come
to purchase these
Halloween tracts
and much more. You can also find them on Facebook.
And later in the year I'll be reviewing some of their other products used for witnessing. Don't forget to also check out how others used or will be using these little pumpkins by clicking the link below.